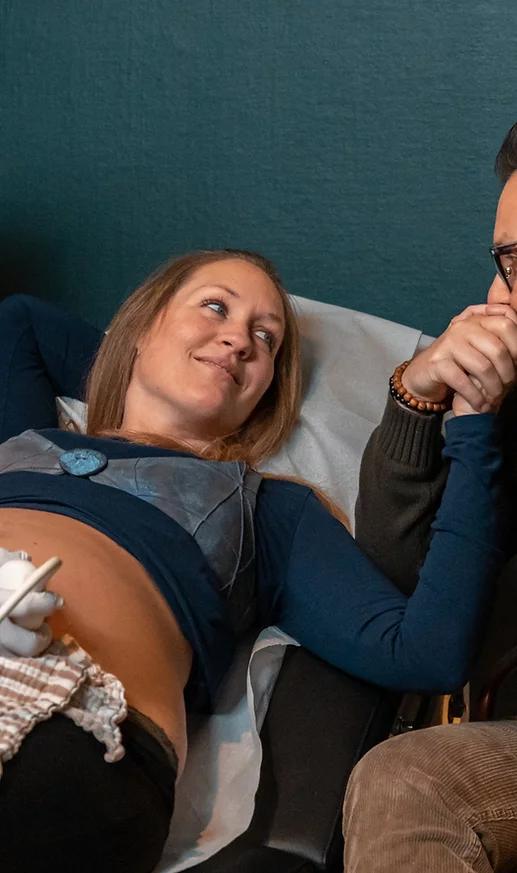 The anomaly scan, sometimes referred to as the anatomy scan, is your baby's first real health examination. Especially if you tend to jump on and off the emotional rollercoaster that pregnancy is to most, this scan is great for finding reassurance.
The early anomaly scan can be carried out from 15-16 weeks, but even as early as week 13, many wonderful details from your baby's secret world are visible. One thing we look for during this scan is baby's nasal bone. 75 percent of all fetuses with Down Syndrome are missing theirs.
The late anomaly scan is carried out from 18 weeks and right up until birth. We thoroughly examine the fetus from head to toe and determine whether everything is healthy.
In case we discover any anomalies, we offer immediate and comprehensive guidance directly following the scan. If you wish, we are happy to refer you to the appropriate hospital or fetal medicine unit.
Duration: 45 minutes
Price: DKK 1,900
Regardless of your previous pregnancy history, the early anomaly scan is a wonderful way of putting your mind at ease. However, if you have experienced anomalies in earlier pregnancies, or your results from the nuchal translucency scan came out positive, this scan can be especially helpful in finding reassurance.
During the early anomaly scan, most irregularities related to your baby's fundamental development can be detected. We check that your little wonder is developing in accordance with his or her age. We examine the skull and brain for healthy development, the face (cleft lip) and nasal bone, we count the number of fingers and toes, as well as scan the heart (to see if all four chambers are there), abdominal wall, spine, stomach, kidneys, and bladder. Finally, we scan the bones for anomalies in legs and arms; clubbed feet can be detected at a very early stage.
If you would like to know the gender of your baby, we look for that as well. If you want absolute certainty whether you are carrying a little boy or girl, we recommend waiting until your 14th week of pregnancy. Quite often, it is possible for us to determine the gender earlier on – we just don't offer any guarantees that we'll be able to.
The early anomaly scan is an abdominal scan, however, in some instances (depending on baby's position in the belly) an additional vaginal scan may be needed to cover all details.
This scan requires a high level of proficiency and is performed by one of our specialists only.
What you receive
Thorough description of all fetal organs and bones, placenta, and amniotic fluid.
The size of the fetus, length and weight.
Baby's gender, if you wish to know.
10-20 images in black and white (printouts).
Small video clips stored on a USB key, which can either be purchased at our clinic, or you bring yourself. We also send all pictures and videos to your email immediately following the scan.
A small plastic folder for all documents and images you receive from us, plus any future pregnancy documents.
Please note: All of the above applies to the late anomaly scan as well.
Book online
Visit our online booking calendar to find the time and service that best suits your needs.
The late anomaly scan
Not only is the late anomaly scan a thorough health examination of your little wonder – it is also a beautiful way to bond. Although we focus primarily on scanning all health-related aspects of your baby's development, funny little facial expressions and adorable mimics inevitable make their way through the screen. We absolutely love doing this scan!
In terms of your baby's health, we assess the development of a healthy brain and spine. We examine the face (cleft lip) and nasal bone, and review all bones in baby's little body, as well as count the number of fingers and toes. We scan the heart (to see if all four chambers are there), abdominal wall, spine, stomach, kidneys, and bladder. We also assess baby's activity level.
Finally, we assess whether the amount of amniotic fluid is normal and show you the exact position of your placenta. Of course, if you would like to know your baby's gender, we include that in our scan as well.
The most optimal time for this scan is from 18 – 22 weeks; we will be able to see all baby's organs with an amazing degree of clarity. Later in pregnancy, as baby grows and won't be able to stretch as much in your belly, some things may become extremely difficult to assess – impossible, even.
If we are unable to review all necessary health aspects during the anomaly scan, we arrange for a new appointment within a few days, free of charge. However, as mentioned above, it can be difficult to see everything later in pregnancy.
This scan is performed by both specialists and midwives, as it is easier to see all details (as opposed to the early anomaly scan).
At our clinic, we use Astraia Software for all data processing, the premier data processing technology used in all Danish hospitals. Astraia is only available to ultrasound clinics certified by the Fetal Medicine Foundation in London.